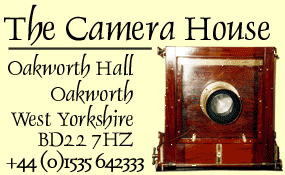 Welcome to The Camera House,
Since 1982 we have supplied collectable and classic used film cameras, lenses,
accessories and other photographica to enthusiasts Worldwide. Many of our
customers have become regulars over the years.
Browse our collection
The stock is divided into the 9 Categories shown on the picture below.
Clicking on the appropriate Category takes you to a list for
that category together with prices in GB Pounds Sterling.

When you have found items of interest, You can enter the catalogue number, or copy and paste from the stock list. If you are searching for a particular item that you cannot find on our web site, please include full details and e-mail us by clicking the 'Contact Us' button above
We will e-mail you to answer any queries and confirm availability
Please send your full address to calculate the delivery charge
We will confirm the total cost including delivery and send an Reference number to quote on your order
Thank you for visiting our online shop.
We hope you will find many items of interest.